Francis Christie, alias Clarke, alias Gardiner …
Frank Gardiner is undoubtedly one of the more fascinating characters in the Australian bushranging landscape, a man who invariably intrigues historians and those interested in Australian colonial history.
A new monograph, The True Story of Frank Gardiner – Part 1 – 1829 to 1854, contains original research by Peter Bradley and is intended to correct many of the errors, shoddy research and mistaken assumptions that have appeared in previously published works on Frank Gardiner.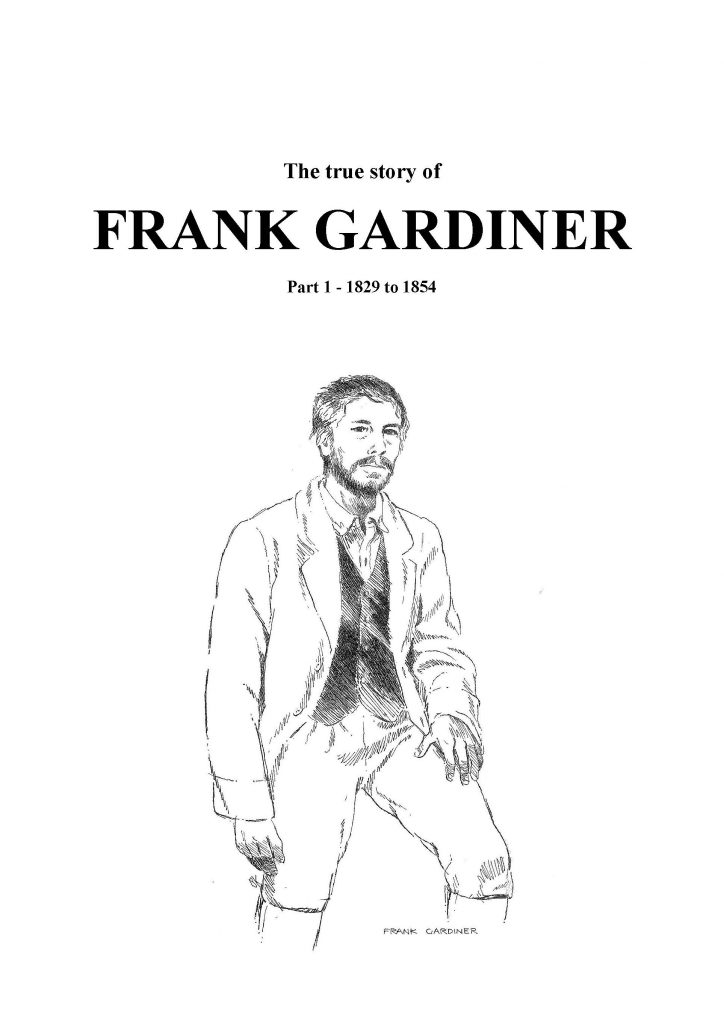 Frank has always remained something of an enigma …………… the numerous aliases, the spread of so much misinformation and deliberate untruths means that determining exactly what he did, where he went and who he met makes the historian's task exceedingly difficult. This is exacerbated by a dearth of first-hand accounts from his numerous associates and many victims; there are certainly newspaper records but they are scattered, invariably second-hand and give little insight into his character and personality.
As a result, there are many gaps in what is known of his life and activities, particularly in his younger days living in central and western Victoria, which, of course, does not make the task of the historian any easier. In this case, as so often happens, we have only a series of inconclusive clues from the brief newspaper articles and scattered references in books by writers of the period. However, when these are viewed as a whole, we can generally attain a reasonable inference as to what Frank was doing, where he went, with whom and why.
Read some excerpts from The true story of Frank Gardiner by clicking on the links below:
Boro Creek
"…Jane and the children accompanied Charles to Boro Creek, presumably living first under canvas and then in the standard slab-walled, bark-roofed, dirt floored
huts of the time.
It was not long before Jane recognised that Henry Monro afforded her much better prospects than
Charles; Monro was educated, erudite and relatively wealthy…"
Read more: Frank Gardiner at Boro Creek 1835 – 1838
Campaspe Plains
"…On the journey, Monro was accompanied by his overseer, Charles Christie, and several assigned servants as well as Jane and the six young children, including Frank, then aged about 8 years. It would
have been a considerable logistical effort to organise transport and supplies for the 600km journey which probably took around 6-8 weeks…"
Read more: Frank Gardiner at Campaspe Plains 1838 – 1843
Salisbury Plains
"During the late 1840s in central Victoria, particularly along the Campaspe, Loddon and Avoca rivers, increasing numbers of well mounted, lawless young men travelled around the various runs claiming to be looking for work, although generally not with genuine intent…"
Read more: Frank Gardiner at Salisbury Plains June 1850
McIvor gold escort robbery
"It was probably coincidental that in the same week as the robbery 'Francis Christie' was recognised at the McIvor diggings…"
Read more: Frank Gardiner and the McIvor gold escort robbery July 1853
Escape to Queensland
"Frank soon convinced Kitty to leave Wheogo and come away with him. But where to? Not anywhere in NSW and definitely not Victoria. Adelaide was a bit too close. Queensland was the most logical choice; far enough away from Forbes but still within Australia. Next question – which way to go?"
Read more: Frank Gardiner's Escape to Queensland late 1862
Bound copies of the complete The true story of Frank Gardiner are available for purchase directly from the author, please use the contact form at right to request your copy.